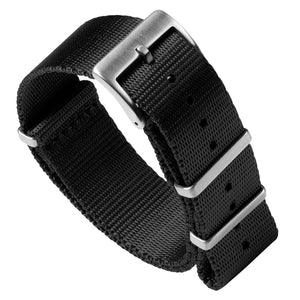 We wanted to introduce a range of NATO's that offered both supreme comfort, and durability. That is why we developed our Premium FX NATO range.
Our Premium NATOs offer a smooth weave, with the toughness you expect of a NATO. Made from 1.4mm thick nylon, our premium straps are thick enough to stop your watch sliding up and down the strap but are also incredibly comfortable to wear.
The buckles and keepers are brushed stainless steel, and the keeper nearest the buckle is "floating". This means it can be moved up and down to secure however much strap is folded back over.
The strap measures 300mm long and features 13 holes so that the strap can fit a wide range of wrists. In fact, the strap should be suitable for wrists between 6.5 to 9 inches. (165-228mm)
20mm Lug Width
Black