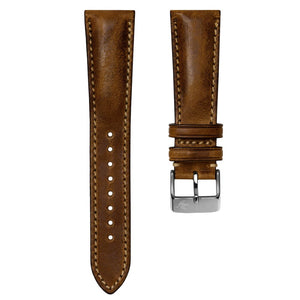 A wonderful leather watch strap, made using time-honoured techniques and finished with contrasting stitching. Designed for watches with 22mm lug width. With its quick release spring bars, it's also easy to change.
Length: 120 / 80mm
Taper: 4mm
Thickness: 6.5mm - 2.5mm
Material type: Leather
Material colour: Light Brown
Padding: Padded
Exchange method: Quick Release Bars
Clasp type: Steel Buckle
This padded strap tapers to 18mm at the buckle end and features a solid polished 316L stainless steel buckle.