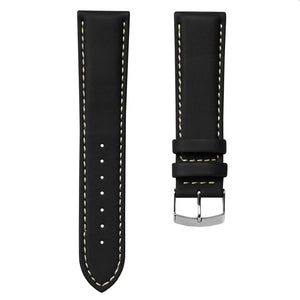 Introducing the new FX premium Vegan eco-leather watch strap to our environmentally friendly collection.  The strap has a stylish padded design and will suit slightly thicker watches.

Made using synthetic Vegan friendly materials and under strict ecological guidelines. The materials used for this strap are very resilient and have a similar feel to genuine leather.
Featuring a refined Italian design the strap is fitted with an anti-allergy stainless steel buckle. It will work with most watches with a standard straight spring bar fitting. 
The watch strap has a 2mm taper which means that the buckle end is 2mm narrower than the watch lug width end.
Environmentally Friendly Collection
Our environmentally friendly collection has been realised using alternative materials to animal hides, and is produced using innovative, ecological and sustainable materials with respect to the environment in mind.
22mm
Black