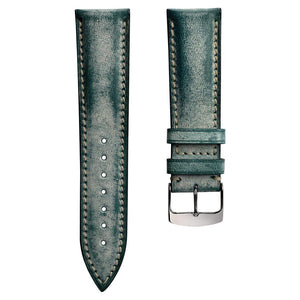 Introducing the new vegetable tanned, waxed calf leather watch strap to our vintage collection.
This watch strap has been handmade using high quality genuine Italian vegetable tanned calf leather, which has been waxed to make it more durable and longer lasting and creates a distinctive looking watch strap.
Fitted with a polished stainless steel solid buckle, and high quality lining for reassurance of quality.
The strap has a 2mm taper, so 22mm is 20mm at the buckle end