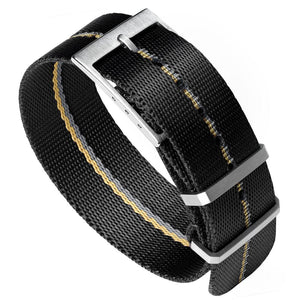 In creating the FX Single Pass Strap we wanted to offer a strap that offered the security and comfort of a NATO, but which wore slimmer on the wrist. We also wanted it to be of the high quality our customers expect, but at a price point that didn't break the bank.
So, whereas other single pass straps use a thin and flimsy material, we went with a premium 1.4mm thick nylon that has a very smooth, tight weave.  This means that the material is strong enough to both secure the watch and be able to withstand whatever adventures you take it on.
As an added flourish the central stripe is embossed into the weave. This bit of depth adds a subtle twist on the usual striped nylon seen on other NATOs.
The hardware is brushed stainless steel. The buckle is slim so as to stop the strap being bulky, but strong enough to stand up to wear and tear. Meanwhile the second of the trapezoid keepers is a floating keeper that can move to suit the length of excess strap that needs to be secured.
We were conscious that everyone's wrist is different, so we included 9 holes on the strap. Combined with the adjustable ladder buckle this means the Henwick Strap should fit any wrist size, from 6 inches to 9 inches (15.25cm to 22.86cm)
20mm Lug Width
Black/Beige/Grey